Yesterday, Mayor Quan of Oakland proclaimed that she was now in charge of the Bill of Rights. This stunning revelation came after Oakland Police Chief Howard Jordan announced

"major reforms" in how police deal with large crowds.
Let me interpret that for you:
This time, unlike every other time for the past eight years, the Oakland Police will really, REALLY try to control themselves enough to follow their own crowd control policies, but if they can't, they'll still be using tear gas, batons and bean bag rounds on peaceful protesters.
Or, as Rachel from the National Lawyer's Guild so aptly tweeted

@NLGnews NLGer Rachel Lederman to Oakland PD: "What about following the crowd-control policy you already have?" #OO http://ow.ly/...
But I digress. Back to Quan's amendments seizure. Immediately after Jordan's announcement, Her Honor, talking about the last six months, pledged to
"learn from our experiences" and then said
We've been allowing free speech activities every day.
Yes. The Oakland Mayor, in her infinite benevolence, has been allowing free speech! Why, she's probably done nothing lately other than sign the hundreds of thousands of permits required daily by the city in order for each citizen to say or print anything other than

Quan hands good, Occupy Oakland feet bad.
| | |
| --- | --- |
| Quan hands | Occupy Oakland feet |
Thus we observe the insufferable self-righteousness of those in power.
Let us be fair to the Mayor. It is not she alone who thinks in these twisted terms.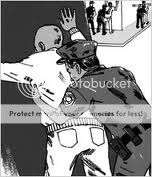 From NYPD's thuggery towards protesters and their 'stop and frisk' policy, to police censorship of filming in Chicago, to stay-away orders and gang injunctions in Alameda County, to school administrators across the country believing they have the absolute right to prohibit students from exercising theirs, to "free speech cages" at major political gatherings, to Guantanamo, the Patriot Act, the NDAA and the NSA, our first amendment rights have been so eroded that they are no longer recognizable. The plain meaning of the First and Fourth Amendments ("Congress shall pass no law...", "The right of the people to be secure... against unreasonable searches and seizures, shall not be violated") has been so twisted by the Supreme Court and those who administer and enforce our laws that it is no surprise at all that Mayor Quan could, without any sense of irony whatsoever, make a Newspeak statement like
We've been allowing free speech activities every day.
There is nothing that illustrates this sense of entitlement and self-righteousness more than another article in today's San Francisco Chronicle on Oakland, its police, and its (non-bankster) crime.

Six months after ... Quan vowed to shower ... the most violent blocks of Oakland with extra police ... the Police Department says it will reduce the number of officers in those areas.

... residents in the Oakland hills criticized Quan's crime plan ... saying it had resulted in a decrease in officers in their wealthier neighborhoods, which were seeing an uptake in burglaries.

It also comes as police reveal that the crime rate for the city's most serious crimes... is up 21% compare with the same time last year.
When Oakland's one percent say "jump", their Oakland city servants necessarily ask "how high?"
When the country's one percent are in danger of being called out for what they have done, their Supreme Court servants necessarily ask "which right would you like us to eviscerate now?"
What stands between us and an effective dictatorship is the interpretation, by a bunch of power-seeking individuals, of a few hundred words written down more than two hundred years ago.
Those words have largely failed. What do we do now?
Mayor Quan, may I please go to the bathroom?