First of all.

Please read this first:

Aji does NOT want to be telephoned.

So please respect her wishes.
Aji
has been doing some wonderful writing for
First Nations News & Views
. Her
commentary and analysis
on the
Twilight
series garnered a huge number of readers. She is in the middle of writing a series on
water rights on Hopi and Navajo lands
. I received the email below Saturday, and while I was making a mental count of all the people I know who care about Aji I realized that her fan club is huge. I know many people who I don't have email addresses for who care about her, so I'm making this public. (You can see I have her permission below.)
Please share this with the people you know are fans of Aji and her partner Wings.
Like many of you, I've been very worried about them both since they lost their home.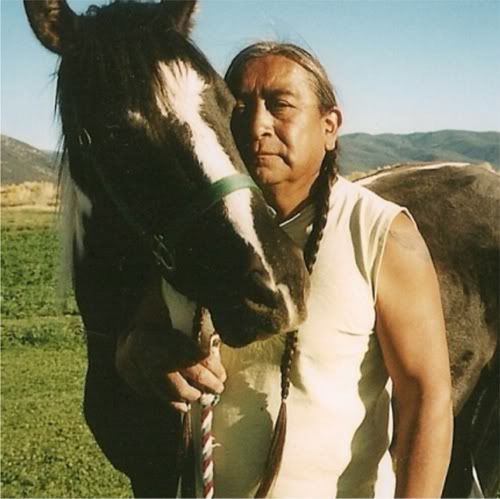 Many of you already know how much she's been struggling. I thought I would notify you all that she's going to be offline a while and I would like to give you an opportunity to help her.
If you can help assist her financially, please use our PayPal button at Native American Netroots. The button is in the second box from the top on the right-hand side of the page. I'll collect those funds and mail her a check.
You can also mail her a check directly to:
Hands on Silver Art
P.O. Box 328
El Prado, NM 87529
Another way you can help is to buy something from their website:



http://www.wingssilverwork.com/
Aji tells her story best:
From: "Aji"
To: "navajo"
Sent: Saturday, April 28, 2012 3:14:25 PM
Subject: I'm sorry; I'm just not functional.

[Sigh] I keep hoping things will change, and it keeps not happening.

I'm sorry to do this to you, but I literally am not functional. Like at
all. I know I've been kind of jokingly whining about these latest
problems over the last six weeks, but they've been much more detrimental
than I've let on to anybody other than Wings. And now that I'm trying
to fight off this bug (we both still are, actually), I can't sleep, I
can't think, I can't write. My pain levels are jacked way, do way up,
and nothing works. I will keep plugging away as I can at the things
I've committed to, but it's become painfully obvious over the last 72
hours or so that I can't produce anything on particular deadlines these
days.

I'm going to have to take some time off from DK generally, I think. I
may still be around some to read and rec, but until I can shake this
bug, and then start trying to rebuild my overall health from this other
problem, I don't see me doing too much beyond that for a while. Part of
it is that I don't have the luxury of just not doing anything while I
rest up; there are things that have to get done around here every day,
and one or both of us has to do them, no matter how shitty we feel.
[...]
And part of it is that there are always more things to get
done than hours in the day, and we
haven't even been able to do inventory and get the shop reopened yet -
and no shop, no income. But even with those things, my brain has to
function, and right now it doesn't. That's the biggest curse of this
autoimmune crap; I can deal with quite a lot of physical pain, actually,
but when you've spent your professional life depending upon your brain,
it's a lot harder to accept that you can't make it work on demand anymore.

If you don't see me around for a while, don't worry. And you have my
permission to tell anyone whatever you want about why I'm copping out on
you (yes, I know I am, and I hate myself for it), and why I'm not
around. I don't care who knows what - that really doesn't bother me at
all anymore. The only caveat is that I don't want people to start
calling or whatever because I really, REALLY don't feel like talking to
anyone these days. [And I have not talked to anyone else besides you,
so no one really knows about this.]

I'm sorry to be so useless to you two right now. I'd change it if I
could, but I think you know that. And I love you dearly, and I'll be
back when I'm a marginally functional human being again.

XO ~

~ A
We all know that many tiny donations can really add up. So don't worry if you only have some change to give.
Please let us know in the comments if you helped out.
Also, feel free to leave a message for Aji and Wings. I'm sure when she reads them it will boost her mood, which she needs very much right now.